Bloom Room
A wholesome simulation game where you are hired as the new florist to a beautiful shop. Complete various requests for customers and make unique arrangements. Cheesy dialogue ensues.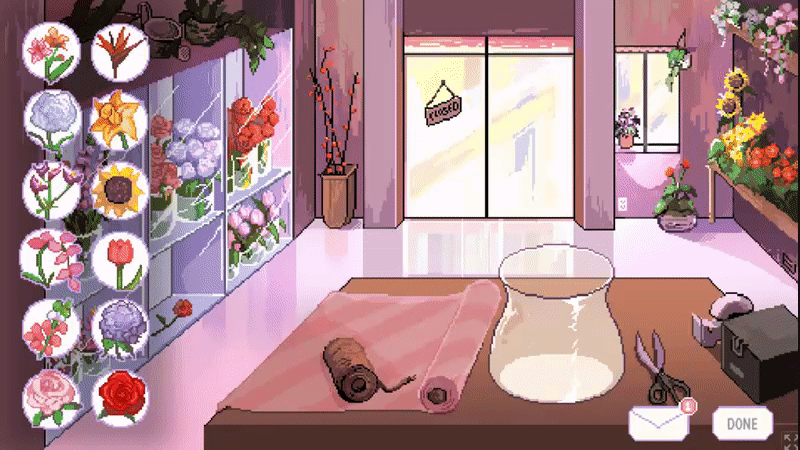 Known Bugs:
- Sometimes, if you take too long to click "Done," there is no result screen. Reload the game.
- Mail button sometimes does not work. Reload the game.
- Scrolling/rotating does not work for some mouses and trackpads. Sorry.
Done for "Intro to Game Development" class at NYU.

Comments
Log in with itch.io to leave a comment.
This is a really beautiful game! Great work!
I adore this game! It's so beautiful and the music is perfect- I hope you keep working on it because I would love to play more- Some things I hope you change are- the buttons for the flowers, its very hard to select and drag a flower without accidentally clicking more buttons, leaving you with many unwanted flowers on screen with no way to remove them (it would be nice if there was somewhere to put them like a bin or even just back into their buttons). I also wish there was a way to flip the flowers so that the arrangement can be even more tailored. I also really want to play it full screen!! I really adore this game and I'll be following you to see if you include more missions!! (please do) <3
oh wow thanks for the great feedback! first of all I'm so glad you enjoy this little game!! I will be trying to fix some of the bugs and make improvements but it cannot be guaranteed due to my dying interest in this project. Some of the stuff you mentioned (like flipping the flowers and a trash can to remove the flowers) are sort of in-progress already so hopefully I'll get them in soon!